Reading time: Less than 3 minutes
My husband and I just returned from a three-week trip to Europe. Here is part 1 of a three-part series on each of the cities we visited. Today I focus on Amsterdam with a piece on biking and writing.
I didn't own a bike when I was a kid. My parents couldn't afford to get me one and, as a result, I didn't learn to ride until I was 20 in an embarrassing lesson involving the streets of Kitsilano,  a too-large bike and a friend who is 6 feet tall. Thank you, Philip. My knees and my dignity have since recovered.
I live in a city — Vancouver, Canada — distinguished among other things for its bicycle-enamoured mayor who cycles to work and who has been stuffing our downtown with bicycle-only lanes or closing streets to everything except bicycles and feet. Not that I'm complaining. 
Still nothing could have prepared me for Amsterdam. This is a city mad for the bicycle. I gasped when our train pulled up beside the bicycle parking lot next to our station. Never before have I seen such a large collection of bicycles piled higgledy-piggledy in an enormous pile that looked a tad like the scene of an industrial accident. There were so many bikes it was as if they had been procreating or self-cloning. Even rabbits aren't that productive.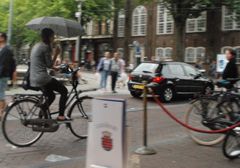 In fact, there are far more bicycles than cars in this city. Roughly 600,000 (compared to 200,000 cars) for a city of 1.1 million. But it makes total sense. First, the land is mostly flat, so riders don't need to climb hills. Second, the narrow, windy streets make biking faster than driving — as any tourist who's been foolish enough to take a cab will tell you. (We didn't. We walked.) Third, cyclists clearly have the right of way. We soon developed the habit of looking left-right-left before daring to cross any path. You could be mowed down in a heartbeat. 
Here are some of the things I saw (regularly) on bicycles:
Up to three people riding on one machine. Sometimes children were carried in a plastic or wooden box, attached. At other times passengers might be both in front of and behind the driver. I often saw adult passengers; once I even saw one riding sidesaddle.
Many of the bikes had no gears. At most, they were three-speeds. I saw not a single fancy or expensive bike. These were workhorses: large, strong and upright, although occasionally their owners had decorated them with flowers or painted them bright colours.
No helmets. Not one. No spandex either. Instead, I saw people in shorts and t-shirts, men in suits or women in short, dark skirts (I still don't know how they did that) or loose, flowing ones. Once, I even saw a KLM flight attendant cycling to work in her bright blue tightly fitted uniform.
I saw many young people talking on the phone or even texting while cycling. I saw people riding with their arms behind their backs (look Ma, no hands!) and I saw them doing it while carrying umbrellas. Memorably, I even saw a young man cycling while carrying with one hand a painting that I estimated to be about 3 x 4 feet. I'm a bit of a safety elephant, but none of this struck me as particularly dangerous in Amsterdam. This is because….
While a few people rode aggressively, most adopted a dignified almost regal style of riding, sitting tall and poised while the landscape sailed by. In short, bike riding was not exercise and it wasn't special. It was just a way of getting from point A to point B, cheaply and efficiently.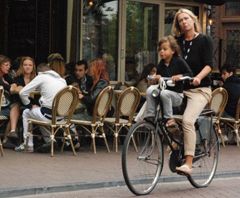 And this brings me to the writing connection. If you grow up in a world where something is unusual — done only by the very fit or for an extraordinary event — and when it requires special equipment — such as a fancy bike, or spandex or even a helmet — then you're probably going to have to be a bit of a zealot to do it.
But if you can make an activity — whether it's biking or writing — more of an everyday kind of thing, you're going to feel more confident and self-assured about it.
Don't make writing something exceptional that you do only occasionally. Instead, do it every day, casually, without trying to prove anything.
Just like they ride bikes in Amsterdam.
Do you manage to write every day? We can all help each other so please share your thoughts with my readers and me, below. If you comment by August 31, 2014 I'll put your name in a draw for a copy of the insightful book 100 Things Every Designer Needs to Know About People by Susan M. Weinschenk. If you don't see the comments box, click here and then scroll to the end.
(Photos by Eric Watts.)