Be so good they can't ignore you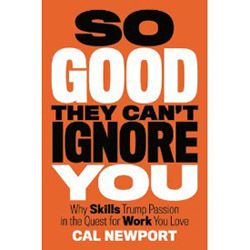 Word count: 350 words
Reading time: Just over 1 minute
This is my weekly installment of "writing about writing," in which I scan the world to find websites, books and articles to help writers.  
I read the self-help guide What Color Is Your Parachute by Richard Bolles when I was 18 years old. A feel-good book designed for job hunters, it told me I should figure out what I was best at, and what I most enjoyed doing. And, — bonus! —  according to the author, these two things would tend to coincide.
Cal Newport throws cold water on that idea in his new book So Good They Can't Ignore You. Instead of focusing on "finding our passion," he argues, we should get good at our work and then our passion will find us. Considerably less sexy than the idea of jumping out of a plane in a coloured parachute, this book nevertheless delivers a cogent, compelling argument with specific, doable advice. The provocative title comes from a line by comedian Steve Martin. "Being so good they can't ignore me," has always been his philosophy, whether considering his career as a stand-up comedian, an actor or a banjo player.
So why is this a good book for writers?  A couple of reasons, I think. First, new writers often wonder whether they should quit their (usually boring) jobs so they can write fulltime. If that describes you, let me repeat my standard advice: Do a lot of writing on the side, first, so you can build your client list before making the scary leap to freelancing. You don't want to be sweating over rent while you're also sweating to land a story to write. Another tip? As Cal Newport argues, you need to develop a certain level of expertise (he calls this "career capital") before you should make any leap into self-employment. In other words, polish your writing skills before you try to sell  yourself as a writer.
I find his argument both compelling and convincing. This is a useful book not just for college students but also for anyone wanting to consider a later-in-life career change. Especially would-be writers.
Footntote: To wrap up the What Color Is Your Parachute story, let me tell you that I ended up working as a journalist entirely because my family owned a struggling weekly newspaper. No choice! I just did it out of obligation, despite always having hated writing. In fact, I had to work very hard to learn to write without pain and angst and it took me about 20 years. But now, at last, I feel some passion for my job. It's sobering to me that if I had tried to "follow my passion" I would never have discovered the work I have come to love.