Hey, please check out my new blog!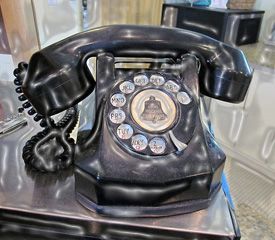 Word count: 765 words
Reading time: About 3 minutes
It's taken me a year of work, but, at last, I've replaced my old website with this brand  new blog. Please, check it out…

This will make me sound old-fashioned, or maybe just old, but I can recall when the TV universe could be contained by a relatively small number of acronyms: CBS, ABC, NBC, PBS and, here in Canada, CBC.
Then, some 26 years ago, back when I worked at a metropolitan daily newspaper, the TV dial exploded. Instead of a small handful of stations, we suddenly had more than 18 of them (trust me: this was a big deal in Vancouver in 1986). And, tragically, a day's worth of listings would no longer fit on a single page of my paper's television magazine.
The magazine fell under my purview and its editor and I were asked to redesign it. We laboured for weeks on this task, worked with professional designers, did some market testing and finally, unveiled a new design. The solution? We flipped the TV "grid" (the little checkerboard containing the list of TV programs) from vertical to horizontal so it would fit. Our bosses loved it and we were pretty pleased with ourselves.
We launched the new magazine with intensely happy hearts. Then we heard from our readers…. who HATED the new magazine. Not just a little bit. But a whole lot. The editor – one of the smartest, most hardworking people I know (we're still good friends) – earned three death threats from total strangers. Our switchboard collapsed under the weight of 10,000 angry phone calls in one day.
I will never forget seeing my colleague pick up her phone, open a file cabinet drawer and hurl the phone into it then kick the drawer shut with her foot.
As a result, redesigns unsettle me.
That's why I am telling you gently, nervously, that I have redesigned my website. I don't think you'll harbour negative feelings anywhere near as intense as the ones we encountered in 1986, but I expect it's possible you won't like the new look right away. So, let me tell you, quickly, why I made the change
My new website is a WordPress blog.  This means you can now make any comments about it you like. (If you're reading this on the blog page or home page, click on the title to get to the individual article page, where you can comment.) I typically receive about two dozen emails for every column I write and it's made me sad that I haven't been able to share them with all my readers. That problem is now fixed and I'll also respond in public. Ta da!
Starting tomorrow, I'll be blogging four times per week. (The other blog entries will be much shorter than this one.) I'll always provide links for the previous week's worth of blogs in my weekly Power Writing newsletter so if you prefer to receive communications from me by email, that won't change one iota.
Because this is now a blog, you'll also have the new option of subscribing via an RSS feed. If you don't understand how RSS feeds work, check out this extraordinarily helpful video by my friend Colleen Wainwright.
While changing the website, I also took the opportunity to formalize a coaching process that I've been doing only casually up until now. I've announced a price structure that presents typical "packages" most useful to writers. If you're interested, book soon because the prices are going to rise within the next three months. March is already sold out.
I'm going to be launching a membership site. I won't say anything more about it now because it's not quite ready to go yet but I'll give you all the details in my newsletter of March 27.
Please allow yourself a bit of time to adjust to my new look. Feel free to stroll through the site and poke around a bit. And be sure to let me know if you find any broken links or glitches. (People who post a note on this page about a glitch or broken link before March 11 will have their name entered in a draw for a free copy of my book, 8.5 Steps to Writing, Faster, Better OR a one-hour coaching session — your choice if you win.)
By the way, the redesigned TV magazine succeeded in the end. We made a few tweaks and the public eventually adjusted. In a similar fashion (well, minus the 10,000 phone calls!) I hope you'll also become accustomed to my new blog and find it more useful than the website it replaces. As Schopenhaeuer put it: "Change alone is eternal, perpetual, immortal." Or to quote Billy Crystal: "Change is such hard work." Amen, brother.
No death threats, please, but I will appreciate your feedback.
Photo courtesy Infrogmation, Flickr Creative Commons