Editing and publication management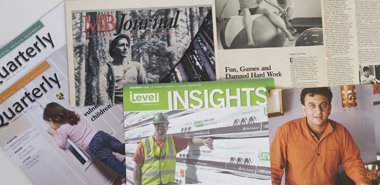 Does your company commit to certain publication deadlines and then find yourself unable to deliver?
There can be many reasons for this, but the primary one is usually the lack of an experienced editor. People often imagine an editor does nothing more than correct spelling and fix punctuation. In fact, that describes only a small subset of editors (known as "copy editors.")
A managing editor is more like a general contractor — responsible for the day-to-day overseeing of a publication. This person not only manages staff or subcontractors (such as writers, photographers, graphic artists, IT consultants, printers, and, yes, copy editors.) He or she also takes care of communicating to you about how the project is going and deals with any bumps in the road along the way. And, of course, the managing editor is responsible for ensuring the  deadline is met.
Wouldn't it be good to have that job lifted from your shoulders?
Most small companies don't have the expertise to be able to deliver publications on time. Some big ones don't know how to ID the best subcontractors efficiently or manage their own internal "approval process," (which is often broken.)
Daphne has stickhandled a wide variety of publications for such blue-chip clients as MacMillan-Bloedel, the Children's Health Policy Centre (Simon Fraser University) and Weyerhaeuser. (See samples in photo, above.)
If you need a report, brochure, newsletter or magazine, Daphne will:
Write and/or assign the content to freelancers
Edit, find photos, write headlines, and supervise design
Open her own Rolodex to give you access to her tried and trusted suppliers
Ensure that all deadlines are met and that your readers receive the publication by your deadline
Just as solo home renovators sometimes take on the general contracting job themselves, to save money, you, too can always manage your own publications. But if you find yourself missing deadlines or scrambling to find subcontractors, let Daphne make your company look a whole lot more professional.