As a writer, how can you get reliable answers
to your questions about…
how to write faster without losing your mind

how to deal with difficult clients/bosses

the problem of fighting procrastination, and

the challenge of finding just the right word.
(And how on earth can you find answers if you work alone, at home?)
Many writers are "loners." They'd rather watch others than talk. Often, they'd choose reading a good book over going to a party.
But even if you're a loner that doesn't mean you don't have questions. Or frustrations! Maybe you want to know how to interview your VP marketing so she speaks in plain language instead of advanced bureaucratese. Perhaps you need to figure out how to get your story approved lickety-split (instead of having it languish on someone's hard-drive for three weeks.) Possibly you want to publish a book and you're trying to decide whether it's better to seek a traditional publisher or advance into self-publishing on your own.
Wouldn't it be great if there were a friendly place, conveniently close by, where you could amble in, and know you would instantly be surrounded by people who cared about writing? Really cared! These people wouldn't cut you off or look at you blankly. Instead, they'd listen to your problems and provide concrete, realistic advice. They'd be the kind of people who've felt your pain. Who've lived through the same challenges you're experiencing now. They would be your community of writers.
At last, such a magical place really exists. It's called the Writers' Quad.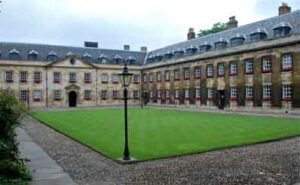 Quad, is short for quadrangle – and I had the idea of creating one for writers after a recent tour of Cambridge University where I learned  that quadrangles – spaces or courtyards surrounded by large residential building – were designed to encourage the students to meet and chat in the central green space. (The only part I couldn't figure out is who would want to stand around talking in all that English rain!)
Well, with the Publication Coach's Writers' Quad, you don't have to worry about rain because you won't have to leave your home or your office to drop by for a visit. The Writers' Quad is as close as your nearest computer. It features a forum in which you can post questions, make comments and share your thoughts about whatever you're writing or reading.
Best of all, you'll find the comfort of connecting with other writers who are searching for answers to their questions, just like you. You'll get resources and ideas that will help you move ahead and progress rapidly.
I am the moderator (or, if you prefer, you can call me the don!)  and I have more than 30 years of experience as a professional writer, journalist, editor, book producer and communications executive. But you'll find far more than just me within this site! You'll meet a host of other writers here, too, all of them willing to share their own expertise.
What will you get when you sign up for the Writers' Quad? All participants will receive:

Membership in a forum and the ability to ask me questions, directly: Members of  the forum have first dibs on my attention. Ask me a question here, in the Writers' Quad, and I will answer it. Even better, other members will answer as well so you will hear a multitude of voices helping address your most pressing questions about writing.

Price protection: In order to give your questions the attention they deserve, the total number of members in this site will be strictly limited. That means that over time, the price will rise. Join now, and you'll be price-protected — meaning your price (monthly or annual) will be guaranteed at your sign-on rate for as long as you continue to subscribe. (The only exception: Members of my Extreme Writing Makeover course receive their first year's subscription free, as part of their EWM package. This happens only once and is not a guaranteed rate!)
Annual members will also receive:

Free audios: Are you an auditory learner? Like to walk (or drive) while you're listening? Every two months, I'm going to be releasing an audio on a topic relating to writing. You may hear from a graphic artist. Or an agent. Or perhaps you'll hear an interview with a published author describing his or her writing habits. Some of these audios will also be for sale on my site (at $19.95 US apiece) but you will receive them as part of your membership, at no extra cost.

The chance for a free edit: Because of my experience, I charge top dollar as an editor, but members of the Writers' Quad will have a special opportunity to win an edit from me at absolutely no charge. Once a month, all members are invited to submit a piece of writing — up to 1,000 words in length — and I will place all names in a draw and randomly select one. That person will receive a free edit.
Members of the forum are strongly encouraged to post their own photos so you can get to know each other better — and unfriendly behaviour is not tolerated — so you'll find the site has plenty of warmth and personality.
**Sales for the Writers' Quad will open in winter 2012***
| | | |
| --- | --- | --- |
| Writers' Quad membership site | Monthly version | Yearly version |
| Membership forum, allowing you to ask Daphne questions and chat with other writers. | | |
| Price protection – if you renew your membership every month or year you'll be price-protected — meaning your regular price will never rise. | | |
| Monthly free audios with writers and other experts (starting May 2012) | | |
| Chance for a free edit (all annual members will get to see these edits) | |   |
| INTRODUCTORY OFFER (valid for this page only) | $17 US/month | $125 US/year |
**Sales for the Writers' Quad will open in winter 2012***
Note: This will be a recurring membership. This means that your credit card will be automatically billed, when your membership comes up for renewal. The system allows you to cancel your membership at any time. You can do this by contacting me by no later than the 29th of the month (the 27th in February) and your card will NOT be re-billed in the next cycle.